School of Humanity High School Challenges: Term 1
On September 5th, 2022, 20 high school learners embarked on an adventure. Spanning 9 countries, and 8 time zones, and joining from a mixture of educational backgrounds, our founding Cohort Jupiter are an eclectic and curious bunch.
In their quest as pioneers, these learners undertook personalizable, flexible, and most importantly, meaningful learning journeys. School of Humanity's alignment with learner agency, holistic assessment, and innovative education directly challenge traditional models, which unquestioningly associate learning with memorization, rigidity, and conformity.
And, our emphasis on human flourishing in the midst of a global mental health crisis has been endorsed by both our learners and their families as a fundamental pillar of our curriculum, one which is all too commonly sidelined in lieu of "academic success".
At School of Humanity, learners embark on challenges instead of courses. The journey so far has been pretty epic, with our learners tackling challenges spanning two broad themes – Our Common Humanity, and The Future of the Internet, Media & Democracy. Our challenge-based learning system means that, instead of learning being segregated into specific disciplines (such as Math, English, Science), our learners learn crucial content through challenges that encompass a range of topics.
And that isn't even the best part – not only is each challenge personalizable to each learner's interests, but at the end of each term, our learners participate in internships with real organizations to exercise the skills and knowledge they have gained.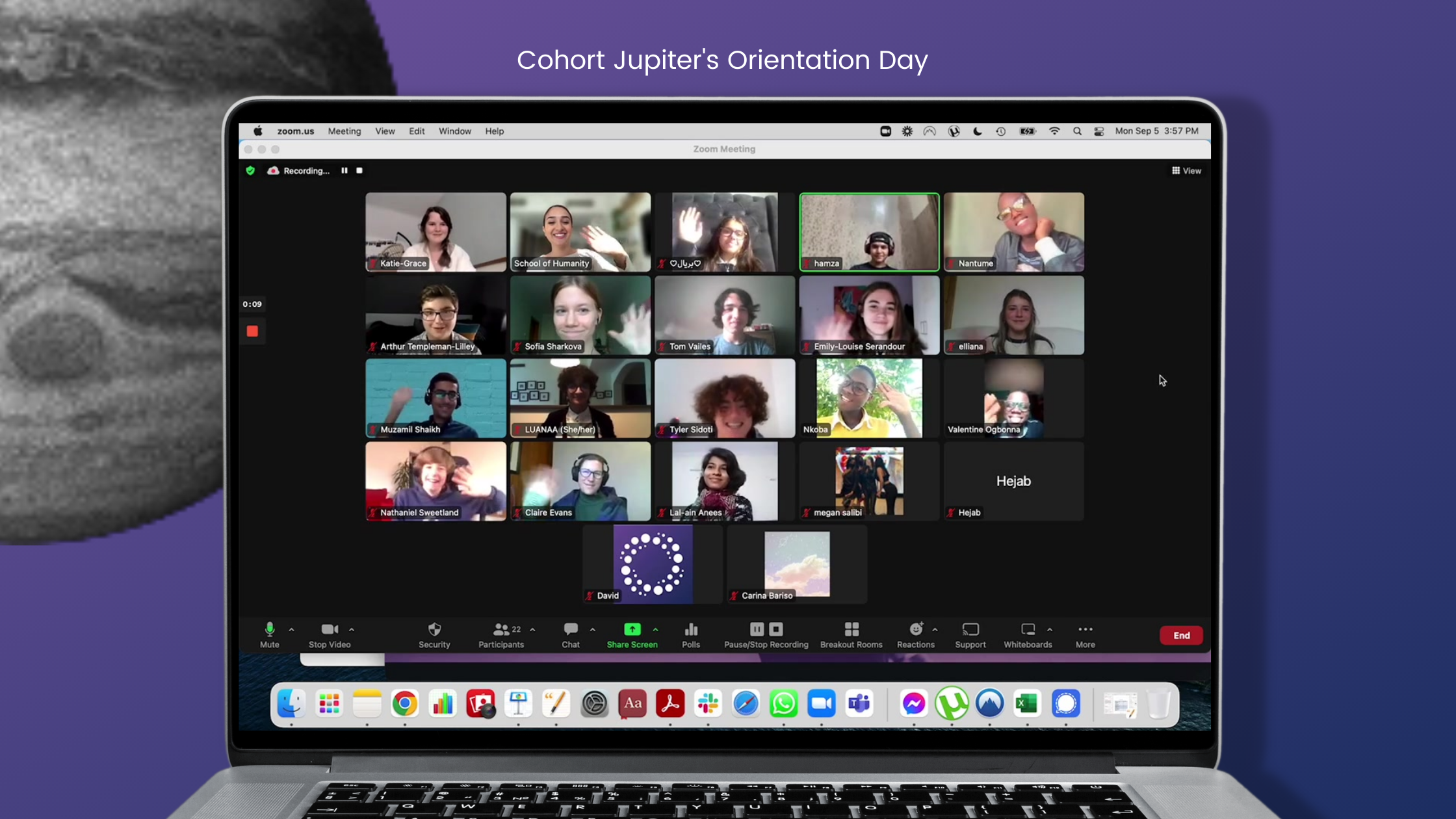 But, I hear you ask, what do the learners at School of Humanity actually learn? And this type of education can't possibly be recognized by universities or employers? Right?
Our learners will all graduate with a High School Diploma, and a Mastery Transcript, which is gaining significant global traction from some of the world's most elite universities, including Harvard University. Unlike a traditional grade-based approach, this transcript evidences the transferrable skills learners have evidenced through tackling their termly challenges.
For more depth on the global recognition of challenge-based learning, see Raya Bidshahri's article on challenge-based learning.
So without further ado, let's dive into Cohort Jupiter's first term at School of Humanity to see challenge-based learning in action.

Our Common Humanity
What is it that makes us distinctly human? Which qualities separate us from the animal world and machines? How do humans successfully co-exist with a decline in biodiversity and a rise in machine learning? These are just some of the questions our learners have been grappling with this term.
In this challenge, our learners have learned about what makes humans unique. As well as the biological and emotional aspects of human life, learners have investigated the human characteristics of belief, religion, culture, and rituals.
They approached the challenge from the lense of biology, anthropology, technology, psychology, and more.
Upon engaging with the big questions surrounding evolution, genetics, language acquisition, technological innovation, and artificial intelligence (to name but a few!), our learners have each chosen a "sub-challenge" to tackle.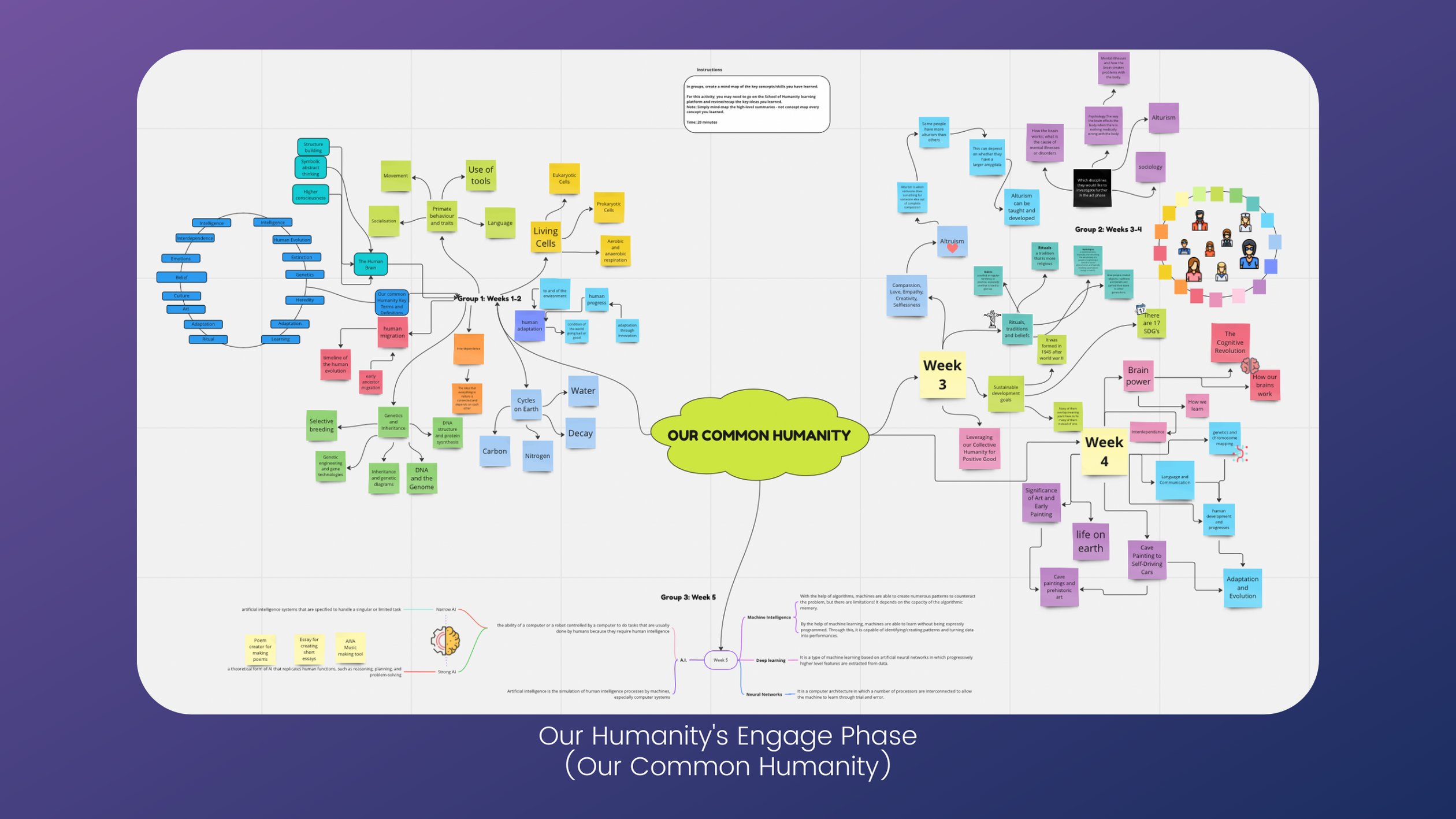 Here are some of the projects and solutions our learners are working on:
Brielle has designed an educational solution for children prioritizing work over education due to poor living conditions in low-income countries
Arthur has developed a training plan designed to shift the Welsh value system and change perceptions of "failure" to tackle the lack of motivation during childhood from families, which has led to generational cycles of poverty
Elliana has used machine learning to develop an online platform that identifies injuries from physical child abuse
Following the development of their own projects, our learners have all participated in a micro-internship with Life Project 4 Youth Alliance. Life Project 4 Youth Alliance is a federation of 17 organizations in 14 countries whose mission is to develop innovative solutions for the professional and social inclusion of young people from extreme poverty.
The challenge for our learners: Create simple and efficient messages which can be used to generate awareness of youth exclusion globally.
Stay tuned for next month's blog post to find out how they got on!

Future of the Internet: Media & Democracy
As the internet and media continue to evolve into public online spaces, how will the role of democracy continue to adapt?
In this challenge, learners tackled the future of the internet from multiple disciplines. They explored history by questioning how the role of the media has shaped past societies; learned literature, media, sociology, politics, and more, through investigating how writers and artists have experienced mass surveillance and privacy issues in different societies.
By questioning how the internet influences different political systems around the world, our learners have not only explored external components but have taken time for introspection; reflecting on the impact the internet has had on their own lives.
Following this multidisciplinary dive into the future of the internet, our learners formulated their projects:
Carina has written a policy paper to tackle climate change misinformation and denial
Sidhi has developed an app and tech-business solution to threats posed by cookies
Hejab has created a podcast exploring collective illusions in online spaces
Our learners were then partnered with Rethinkery Foresight – an organization using intelligence to uncover actionable insights. Likening themselves to a "conductor of a world-class symphony", Rethinkery uses technology to explore and act on growing trends.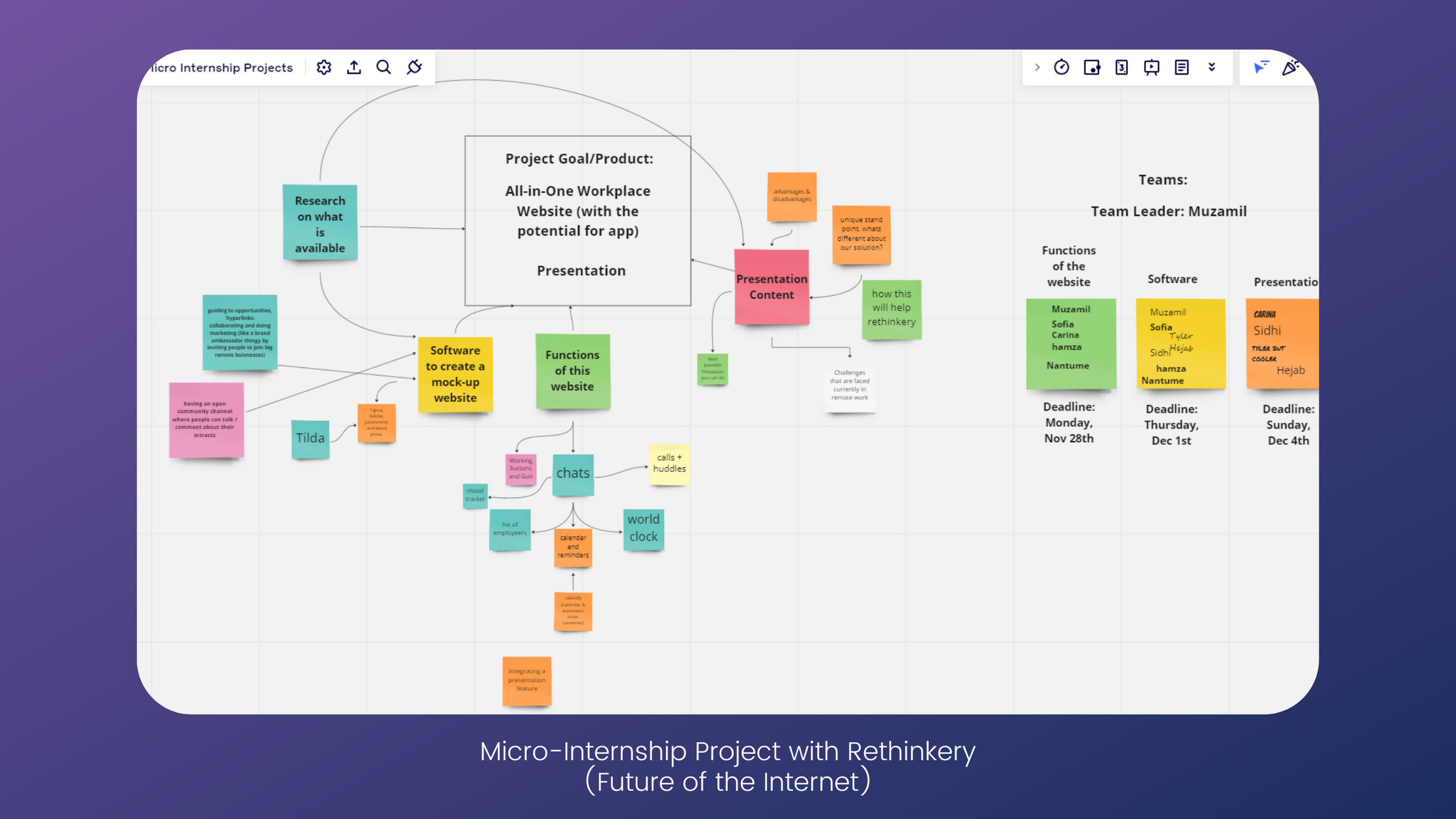 In a post-pandemic world, Rethinkery set our learners the ultimate challenge: Explore the ways in which remote work could be improved over the next 5-10 years.
Curious to find out how our learners approached this? Make sure to come back next month, where we will be exploring term one's micro-internships in greater depth.
The sky's the limit
It truly has been a jam-packed first term for Cohort Jupiter. From developing their first projects to connecting with like-minded changemakers from all over the world, one thing's for certain – our learners are only getting started.