High school education is a crucial stepping stone for learners in pursuit of higher education or entering the workforce. However, there is a growing consensus around learners and parents that high school is failing to equip learners with the skills they need for the industries of the future.
While high schools are apt at providing textbook knowledge and academic skills, the rapid pace of societal and technological advancements requires learning rooted in the real world, trial and error and solutionary thinking. This has created a disconnect between traditional education and the demands of the future.
To truly prepare learners for the challenges of the future, high schools must bridge the gap between theoretical knowledge and real-world experiences. At School of Humanity, we equip learners with the knowledge, skills, and dispositions they need to confidently navigate the array of different pathways available after graduation. Our curriculum is based on research from the OECD on the skills needed for the industries of the future, and tools for whole human flourishing. By connecting classroom learning to practical applications, learners gain a deeper understanding of concepts and develop skills to address real challenges.
We know that every learner's learning journey is different, which is why we prepare our learners for multiple pathways beyond graduation. Our learners benefit from various resources, including micro-internship opportunities and a plethora of professional networking opportunities.
We aim to prepare learners for four key pathways: Traditional Universities, Innovative Universities, Direct to Industry, and Entrepreneurship. We do so by providing weekly sessions, aptly named Pathway Advisory, where we explore the jobs and industries of the future, engage in discussions about the evolving landscape of higher education, and most importantly, uncover the future we want to create for each of our learners.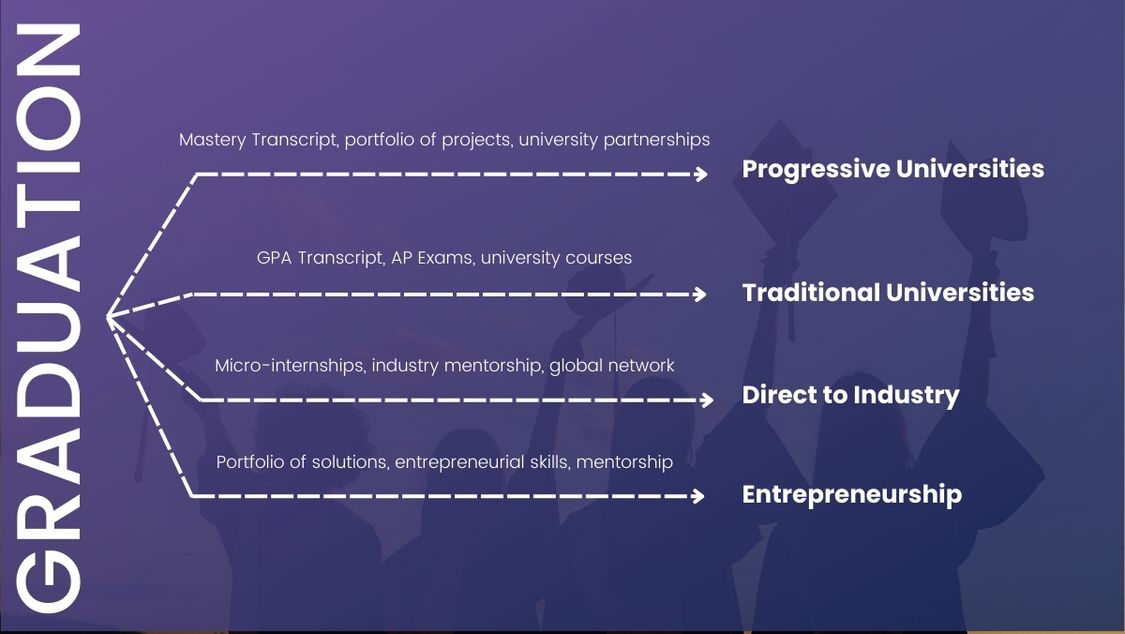 Additionally, we organize immersive experiences such as our annual Pathways Fair, where we connect future-oriented organizations with learners, ensuring they can gain valuable insights and make informed decisions about their future.
Our Pathways Fair is different from your typical university fair. It covers a range of post-graduation pathways, including:
🎓 Progressive Universities:
Our learners get the inside scoop on how top-tier universities are equipping their students with the skills and knowledge required to thrive in today's rapidly changing workforce.
🌍 Gap Year Possibilities:
Gap-year opportunities allow for personal and professional growth. We provide an array of gap year partners who can support our learners on their journey, whether it's experience before higher education or transitioning directly into the workforce.
🚀 Entrepreneurial Insights:
Many of our learners express the desire to make the world a better place through entrepreneurial pursuits. We provide them with firsthand accounts from trailblazers who chose the entrepreneurial path.
At School of Humanity, we celebrate that each individual is unique in their dreams, passions, and aspirations. We understand that a one-size-fits-all approach to education is outdated. Instead, we are committed to providing personalized journeys for every learner who walks through our doors.
By providing learners with unique, real-world experiences, and catering to their strengths, interests, and goals, we unlock the full potential of each learner. Their journey therefore remains uniquely theirs, and we support them every step of the way.