The world is changing fast. As we ride the tide of the 4th industrial revolution, where artificial intelligence, robotics, biohacking, and the internet of things, to name but a few, promise to disrupt our long-established systems and daily lives, we need to ensure that young people are prepared and ready to navigate the current and future landscapes.
While the employment scene has always been changing and evolving, it is safe to say that what we can expect for our children's future is wildly different from what was expected of us or of our parents. Some jobs, which have historically played an essential role in our societies, such as that of a cashier in a supermarket, may become obsolete as new "smart" approaches are adopted. Amazon's new line of stores, Amazon Go, with their 'Just Walk Out' technology, is one such example, where shoppers pay directly through an app.
These changes do not necessarily mean fewer jobs, but rather different and more specialized jobs, where teams develop the technology involved to allow for systems to become automated and streamlined.
In the case of Amazon Go, this includes computer vision, deep learning algorithms, and sensor fusion. According to a study by McKinsey & Co in 2017, an estimated 800 million jobs could be replaced by automated machines by 2030, and up to '375 million workers may need to switch occupational categories and learn new skills '. They go on to say that while the employment projections may be shifting, this does not necessarily mean fewer jobs, but rather shifts in the employment sectors towards technology and areas that have not existed before.

Learners need to develop certain skills that will enable them to succeed and thrive in the uncertainty of the future. The term 21st-century skills refers to a broad set of knowledge, skills, work habits and character traits that are considered vitally important to succeed in today's world and that of tomorrow. They include 3 main categories called Learning Skills (such as critical thinking and creativity), Literacy Skills (such as reading and digital fluency) and Life Skills (social-emotional skills such as leadership, empathy and self-control).
The 21st Century skills can further be categorized into 'Soft skills', referring to skills required to interact effectively on an emotional, social and professional level with others, and 'Hard Skills', referring to the technical skills and knowledge required to carry out a specific task. Here's a glimpse into the skill units we offer at School of Humanity: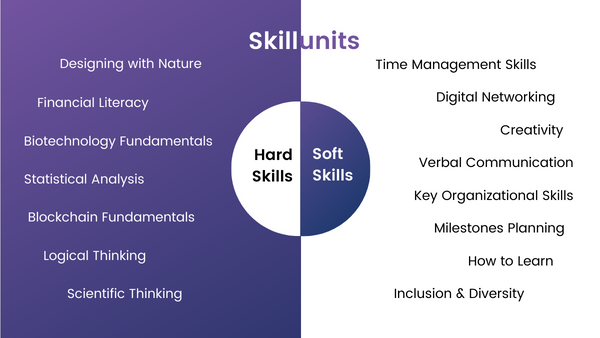 Education is fundamental for providing young people with the opportunity and necessary guidance to develop these essential skills. The way that learners develop 21st Century Skills is currently under much scrutiny, with many arguing that traditional methods of education do not ensure that learners are developing the skills that they need.
What role does challenge-based learning play in all of this?
Challenge-based learning, first established by Apple, Inc in 2010, provides a framework for educators to guide learners on an educational journey where their primary focus is solving a local or global real-world challenge.
The framework includes 3 main phases: Engage, Investigate and Act. In the Engage phase, learners are challenged to explore a given topic from a multidisciplinary perspective. In the Investigate phase, they follow a series of guiding questions to identify a particular problem statement that they would like to tackle. In the Act phase, they spend time designing their proposed solution to the problem and developing a prototype.
By being able to choose their own problem and project, learners develop a sense of ownership over their work. In some cases, they may choose to work in teams, learning to collaborate and coordinate their schedules across time zones. As they move through the challenge-based learning process, learners develop many of the aforementioned 21st Century skills.
These include soft skills such as project planning, time management, resilience, and perseverance and hard skills such as user experience design and website design.
The skills they develop will depend on the challenge they have chosen to work on and the direction their solution goes in. As facilitators of this process, we have seen our learners grow in confidence and self-esteem as they realize that their ideas, their solutions, have value and that they have the power to solve problems by themselves.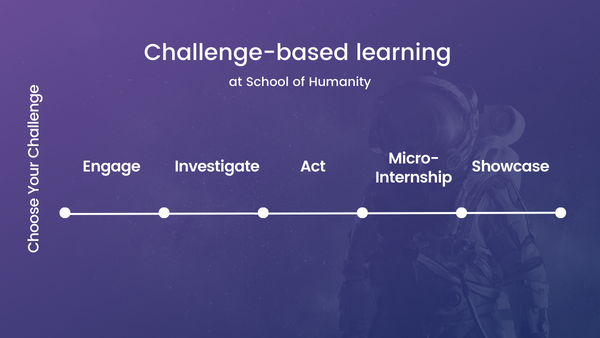 School of Humanity has added a fourth phase to the Challenge-Based Learning approach – Share and Reflect. By presenting their challenge solutions in a global showcase, learners develop their public speaking and presentation skills, while reflecting on and celebrating their learning journey.
At School of Humanity, we strongly believe that all learners benefit from solving challenges. This is what the world needs: learners who are able to see a challenge, any challenge big or small, and immediately think 'what can I do to tackle it?'. They appreciate that in order to do so, they may need to develop new skills and they have the wherewithal to do so.
By tackling real-world challenges, learners become empowered and see the future as full of possibilities, whatever changes the future employment landscape may throw at them.