With the rise of social media, creating and maintaining a strong personal brand has never been so important. However, one key ingredient to building your personal brand is often missing: persuasive design.
Humans are visual beings. We remember 80% of things that we see, therefore you need to have good-looking branding to stand out from the crowd.
There are three rules to great branding: make it memorable, make it purposeful, and make it truly yours. Lose one of the three, and your personal brand is unlikely to resonate with your audience.
Luckily there is a tool that can help your content look professional without spending hours on advanced tools like Photoshop or Illustrator – world, welcome Canva!
Canva is a leading design platform that aims to make graphic design (and more!) more accessible for non-designers. One of its key benefits is the number of templates that you can use and adapt to visually organize your work. Another benefit is a vast library of images, elements, fonts, and videos, which saves you time and drive space as it is safely stored on Canva's cloud.
This article is part one of two that will help you discover, build and communicate your personal brand to the world.
With that, let's dive right in!
Create a Vision Board for Yourself
Vision boards are great to remind you of your personal goals and aspiration during your day-to-day. A number of influential people utilize this tool to visualize their ideal life.
These vision boards, also called dream boards or goal boards, can be created by cutting, writing, drawing, or printing out your elements. However, as our eyes are more and more directed toward digital screens, more and more people choose to convey their visions digitally.
Canva is a great tool to do so. Simply click create and choose your format – whether it be screen format for your laptop or mobile size to put as your screensaver.
Now that you have a blank slate of a document to work with, it's time to create your vision board. There are several different ways to do this, but this is my personal favorite:
Firstly, select the right template for your vision board. Canva has many different templates to choose from, including blank templates or templates with lines or grids that help guide where things should go.
Secondly, import images from your computer or directly from the internet (you can find useful resources here and here). Use images that really resonate with you and your goals: what are the things you wish to see in your future life?
Thirdly, add text to reflect your goals and motivations for doing whatever it is that you want to do; this might be anything from "I want more money" to "I want to change the world". The sky is really the limit here – all of these will define your personal brand, so make use of the resourceful images, elements, and videos to really bring your vision to life!
 
Here's a great

vision board by a girl

wishing to focus on her academic success.

 
Lastly, share this vision board with friends and family so that they can provide feedback on what could make it even more effective–and set it as wallpaper on your electronics so every day when you glance at your phone or laptop, you will remember how awesome life will be once everything comes together!
Create a Mood Board
Mood boards are different from vision boards in their purpose: while vision boards define your goals and ambitions, mood boards set the tone for your upcoming personal brand.
Mood boards are a great way to make sure your branding is consistent across all of your marketing materials. They can also be used as a visual representation of your brand, and make it easy for you to keep track of things like logo colors and fonts. The goal of making a mood board is to create a personation of who you are: your personality, your hobbies, interests, and things that you care about and are passionate about exploring.
To create a mood board in Canva:
Click on the "Mood Boards" icon at the top left corner of the page. Then, click "Create."
Choose an image from their library or upload one yourself. If you're using an image from their library, make sure to select "Image" as its type in the right-hand column; otherwise, you'll have to add it manually by clicking "Upload" and "Select your own image". When adding an image of the internet, you can always copy that image (right-click and then 'Copy image' or 'Copy') and paste it into the canvas – this will automatically upload your image.
Add text wherever possible – this will help you understand yourself! For example: "I love my cat." Or maybe even something more specific like, "I am kind to everyone who cares about animals because we share a similar love". This will help you dive deep into your personality.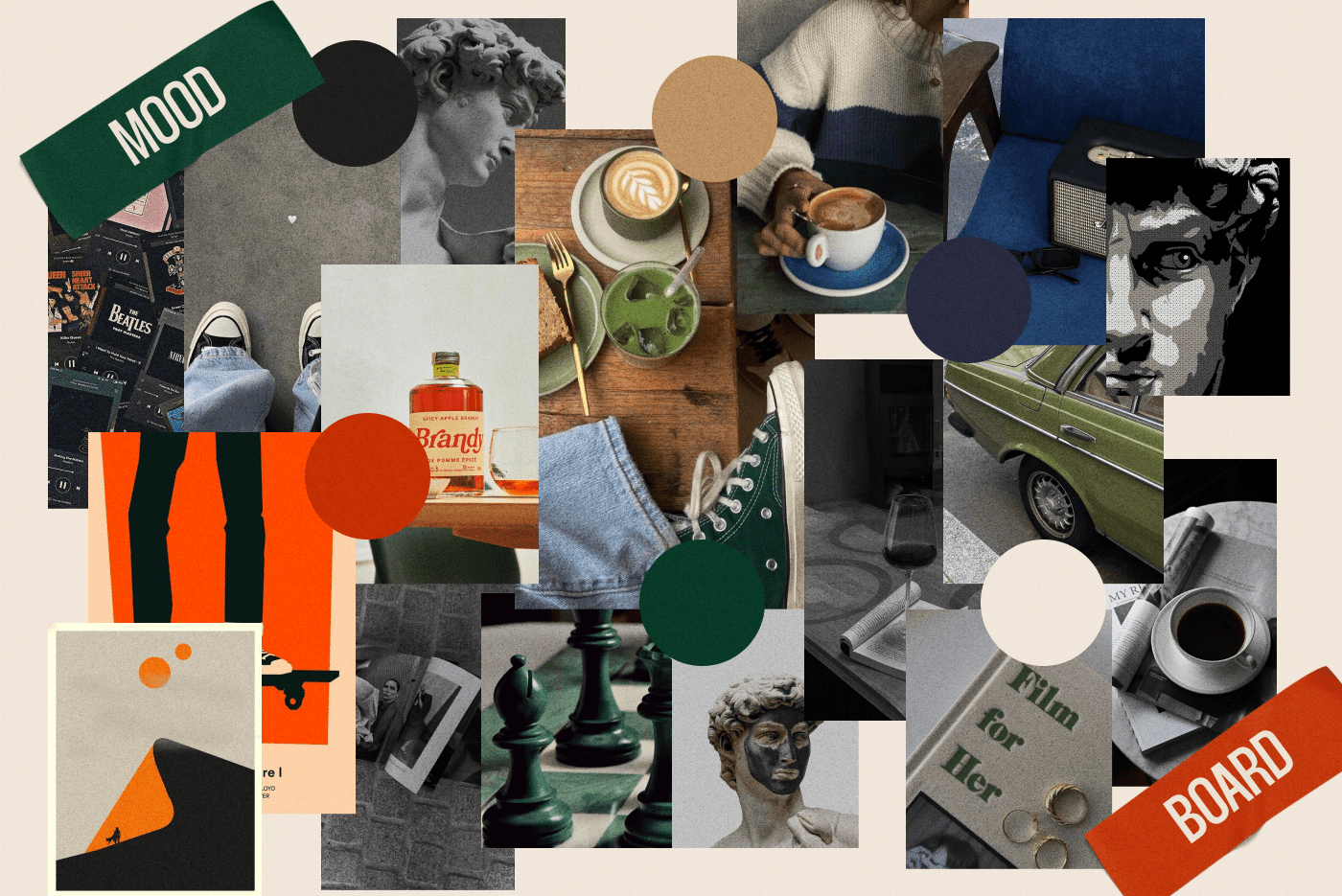 Here's a great example of a mood board! Created by Carolina Trevizo.
Create a Logo and Brand Elements Using Canva's Templates
By now, you should've gotten a lot of information from your mood board that can help you define your personality archetype. The next step is to create a logo and brand elements by utilizing Canva's templates, which are free and easy to use.
You can decide whether you want to create a text-based or image-based logo. If you choose an image, make sure that it's clear enough so that people who see your profile will be able to read it. For example, if the word "design" is part of your business name or description and you want it in your logo, try using a font like Helvetica so that people can easily decipher what the letters mean.
Make sure to use consistent fonts across all your communication. Luckily, Canva comes with pre-defined font pairings that you can choose from, or if none are really speaking to you, you can use this incredible online tool.
You must also have a consistent color scheme across all of your branding materials so that everything looks professional. Again, your mood board or even your favorite color can serve as an inspiration.
Here's an example of the amazing final product:

A fantastic product of great typography and color scheme from the mood board example above! Follow Caroline Treviso and support her work.
Are you ready to share your personal brand with the world and use your unique set of skills to better the world? Check out part two to learn how to use Canva to create compelling communication material.