More and more students today want to learn by doing. At the same time, an increasing number of employers are valuing skills over degrees, and real-world experiences over GPA.
In this emerging landscape, young changemakers need a new medium to communicate their experiences, accomplishments, and projects, in a way that demonstrates the problems they are able to solve.
That's where portfolios come in.
What's a portfolio?
And why do you need one?
Simply put, portfolios allow anyone to showcase their works, experiences, and projects at a glance. They are often aligned with one's personal brand, story, and personality.
One way to think about them is as a three-dimensional resume, where viewers can go beyond the high-level information to see more details and selected projects.
They have multiple use cases and applications, and can be leveraged for university and/or job applications – as well as general networking and thought leadership.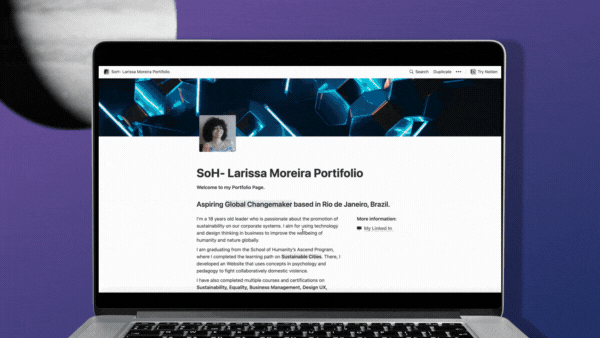 Let's look at some examples: School of Humanity learners
There are various sections in a portfolio, and some of the most common ones include:
Personal bio
Selected works/projects
Written works
Courses/certifications
Links to Linked In/resumes
Contact details
Portfolios also give candidates a competitive edge when created well, and can help open up many opportunities.
In all of our programs at School of Humanity, we guide our learners to develop their portfolios and resumes. Here are a few examples of portfolios of some of our learners: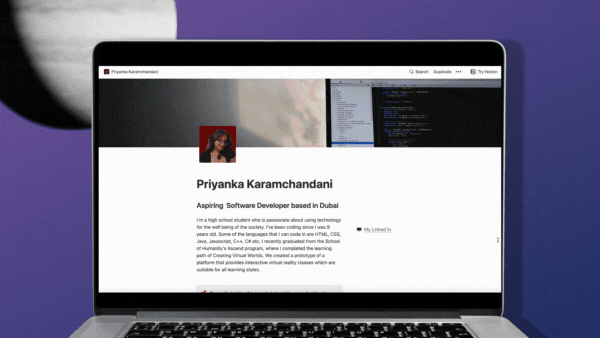 Getting real-world experiences: where to begin?
Oftentimes, high school students reach out to us with frustrations about getting real-world experiences. They are not sure where to begin or what to include in their resumes.
Unfortunately, for many students, their go-to school curriculum lacks internships, apprenticeships, or projects with impact.
That being said, there are many possibilities:
Participate in volunteering initiatives, or start your own! Reach out to local charities and organizations to see how you can volunteer your time and skills to contribute to society.
Reach out to your network for internships. Start by reaching out to your parents, friends, and local businesses to identify potential internship or work opportunities.
Start your own initiative. Passionate about a cause or a global challenge? Start your own initiative (for example, a start-up or club)!
Participate in programs with real-world learning. Programs like School of Humanity allow learners to develop their skills by having an impact on the world.
Complete project-based courses. Platforms like CodeAcademy and Coursera are taking courses to the next level by allowing students to work on real-world projects. These are also projects that can be added to your portfolio.
Guiding principles when designing a portfolio
Thinking of creating a portfolio for yourself? Here are a few fundamental principles you want to keep in mind:
Align it with your personality and personal brand. Be authentic, and be yourself. Your portfolio can reflect your unique story and background, as long as it remains professional.
It's about quality, not quantity. The goal of your portfolio is not to share every single project or experience. But rather the most high-quality, relevant, and sometimes, most recent, works and experiences.
Keep it up-to-date. Your portfolio is constant work in progress and should be kept up-to-date on a monthly basis.
Share, share and share. Don't be afraid to ask your peers, mentors, and educators for feedback on your portfolio. Above all, there is no point in having an amazing portfolio and not sharing it with the world.
How to design your own portfolio
During all of our programs, learners participate in a range of projects, learner-led solutions to global challenges as well as micro-internships, all of which are opportunities to expand their portfolios.
Here are the steps that we normally guide learners through:
Start with the template. Here is our go-to portfolio template (on Notion). To create your own, click on "Duplicate" on the top right of the page. Note: you will be prompted to create a Notion account and may need to be familiar with the basics of using Notion.
Write your bio. In a few sentences, tells us about yourself, including your passions, interests, accomplishments, and goals.
Plan your sections. Decide what key categories or sections you want to have. Examples include "My Written Works", "Selected Projects" or "Work Experience".
Add your selected works. Curate your most quality work and experiences. Add further details on the properties for each, such as links to actual works, and further descriptions.
Link your resume and LinkedIn (if you have one). Hyperlink your resume and your LinkedIn if possible.
Add your contact details. Make sure you are comfortable with these details being shared publicly.
Proofread! Ensure perfect punctuation, grammar, and spelling.
While the steps above are based on a Notion template, please keep in mind that there are lots of other tools, platforms, and mediums that you may choose to work on your portfolio.
Remember, that your portfolio, like you, is a constant work in progress. It will evolve as you evolve.
And above all, it is never too late or too early to start working on your portfolio.